TTJ Address Book & Buyer's Guide 2023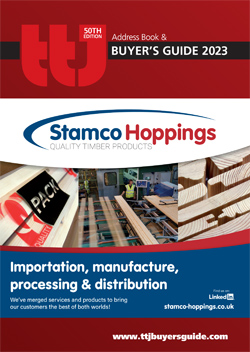 CLICK HERE TO BUY A COPY

The all-new, fully updated 2023 edition of TTJ Address Book & Buyer's Guide is out now- all the information you've come to rely on online is also available in a handy portable version!
Brought to you by the publishers of TTJ and TTJ online, the 2023 edition provides:
Named contacts in our Who's Who, complete with job titles and company listings
Products & services specific to your industry – from insulating boards to edge banding, preservation services to woodshaving machines.
The key companies operating in your industry, plus key personnel, products & services and email addresses
PLUS - GUIDE TO TIMBER CERTIFICATION – suppliers of certified timber & finished products are clearly highlighted, so you can easily identify who's producing products from sustainable sources.
TTJ Address Book & Buyer's Guide – it's your ideal business tool for:
Purchasing
Sales
Marketing
Recruitment
Research
For complete coverage of the timber industry...
Merchants
Importers
Shippers
Agents
Exporters
Manufacturers
...make sure you order your up-to-date copy of TTJ Address Book & Buyer's Guide.
---
The 2023 edition can be yours for just £104.99 plus postage. To order your copies, email cs@progressivemediainternational.com